Meet the Team
BRIAN BEHLES, DDS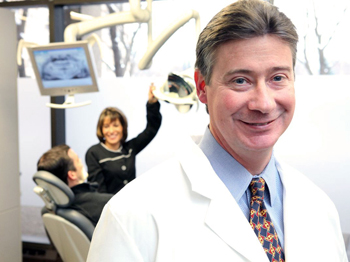 Dr. Behles was awarded his Doctor of Dental Surgery degree from Northwestern University, Crown and Bridge Honors Program in 1985. In his prior undergraduate studies, he received a Bachelor of Science degree in biology from Loyola University. He is also the proud recipient of the 2011 Top Doc award for the exceptional dental care he has given to his patients. Dr. Behles believes a beautiful, healthy smile improves self-esteem and quality of life regardless of your age. To best fulfill his commitment to quality care, he is an active member of the American Academy of Cosmetic Dentistry, American Academy of Implant Dentistry, Academy of General Dentistry, Illinois State Dental Society, Chicago Dental Society, American Dental Association Dr. Behles also donates his time and skill to the "Give Back a Smile Program" sponsored by the American Academy of Cosmetic Dentistry
Dr. Behles, his wife Debra and their two teenage children, Tierney and Quinlan, reside in Wilmette with their cat Jack and their Great Dane puppy Bowie. Most of Dr. Behles' free time over the last two years has been spent planning and designing his new state-of-the-art dental office. The office and staff create a perfect blend of a caring and relaxed atmosphere with the advantage of cutting edge technology for a positive and comfortable dental experience. Dr. Behles' personal interests include supporting his children in their academic and athletic interest, as well as reading, travel, entertaining and a renewed commitment to fitness.
LING CHAN, DDS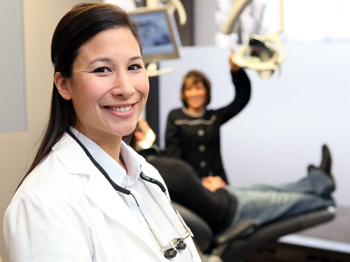 Dr. Ling Chan went to the University of Michigan for both her Bachelor of Science in Biology and her Doctorate of Dental Surgery. She originally hails from Michigan, and has been in Chicago since graduation in 2005. She was inspired to go into dentistry by her father, who continues to practice dentistry for the 39th year in Michigan. Dr. Chan enjoys practicing all aspects of dentistry, but particularly restorative and cosmetic dentistry, oral surgery, and pediatric dental care.
Dr. Chan is a member of the American Dental Association, the Illinois State Dental Society, the Chicago Dental Society and the Academy of General Dentistry. She is dedicated to continue learning new aspects of dentistry, especially advances in cosmetic dentistry. Dr. Chan wants her patients to always feel they will be thoroughly cared for and that all their dental needs will be met. She understands that dental procedures can produce anxiety for many people, and she is committed to providing a comfortable dental experience. When not in the office,  Dr. Chan loves being a mom to her toddler, Emmett.  In her free time, Dr. Chan enjoys working out, cooking, reading, knitting, traveling, playing with her dog Oscar, and spending time with her friends and family.
SHEILA MIGUEL – OFFICE MANAGER – EVANSTON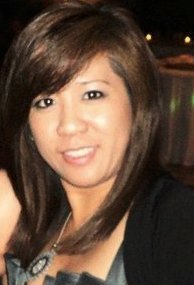 Sheila joined the practice as a dental assistant and receptionist in 1990 and is currently the Evanston Office Manager. She is responsible for all front desk business operations as well as staff and office administration. She is committed to providing our patients with outstanding customer service from their initial phone call through completion of treatment. Her front desk duties include appointment coordination, treatment planning, billing and accounts management, as well as  financing and insurance processing.
Sheila received her Bachelor of Science degree in Computer Information Systems and Technical Management from DeVry University. She earned her Graduate Certificate in Business Administration from Keller Graduate School of Management.  When not in the office, Sheila loves spending time with her daughter, Gabrielle.  She also enjoys movies, swimming, bowling, cooking and traveling.
ELIZABETH RICELY – DENTAL ASSISTANT- CHICAGO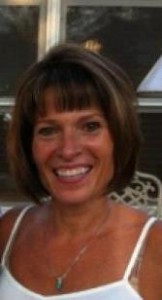 Liz graduated from Willow Brook High School where she participated in a school-work program at a local dental office. She then fell in love with dentistry, despite her horrible childhood dental experience. She continued her education at the College of DuPage where she took courses focusing on dental assisting.
Liz has over 23 years of experience in dental assisting. Over the years, her duties have expanded to include; knowledge and use of digital x-rays and current dental technologies, lab processing, oral surgery experience as well as assisting in more advanced restorative and cosmetic procedures. Liz is CPR-certified. She takes courses annually to further her dental education and to stay current with OSHA regulations and protocols.
Liz grew up in the Northwest suburbs with her four siblings and has been married for 24 years. She is fluent in Polish and English. She is the mother of six active teens and enjoys cheering on her kids in their academics and sports endeavors. She enjoys spending her free time outside in the garden and her koi pond. She is also an avid runner and cyclist. Liz has participated in 10 marathons, 5 duathlons and many half-marathons. This year she ran the Boston Marathon as well. Exercising allows Liz to be an energetic and lively person when she is happily dental assisting. Her kindness shows and her patients are always comfortable when they visit our office.
KAREN CARBALLIDO –DENTAL ASSISTANT- EVANSTON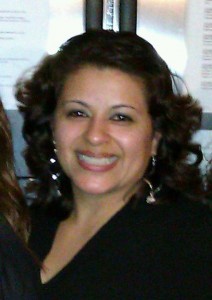 Karen has over 18 years of dental assisting experience, and brings a smile to work every day. She is certified in CPR as well as Coronal Polishing /Pit and Fissure Sealant Application. It is her daily goal to ensure that all her patients are comfortable while in the dental chair. When  patients share their photos,  showing their confident smiles in the most special events of their lives, Karen feels that this is one of the many rewarding aspects of her dental career.
Karen was born and raised in Chicago. Outside the office, Karen enjoys spending time with her family; Jose-her husband of 25 years, and her wonderful children Andrew, Vanessa and Jessica. Other interests include going to the movies, bowling,  traveling and fun outdoor activities with friends and family.
SANDRA MARRON, B.S., RDH – DENTAL HYGIENIST – CHICAGO
Sandra attended the University of Illinois at Chicago for her Bachelor of Science in Biology and for her Associates in Applied Science Dental Hygiene degree.  She graduated with High Honors and Valedictorian status.  Sandra has been practicing dental hygiene clinically since 2003.  She enjoys treating patients clinically, but finds her greatest satisfaction in patient education.  Sandra believes that through knowledge, behavior can be modified, and greater overall health can be achieved.  Prior to starting her dental hygiene career, Sandra started working in the dental field at the age of 18,  chair-side assisting and office management.
Sandra was born and raised in the Chicagoland area and spends her free time raising the two loves of her life; James and Charlie.  Sandra also enjoys running, cycling, and being outdoors.
CANDIDA VAZQUEZ, RDH- EVANSTON
Candi joined our practice in November, 2012.  She attended Kennedy-King College in Chicago and the University of Illinois at Chicago, College of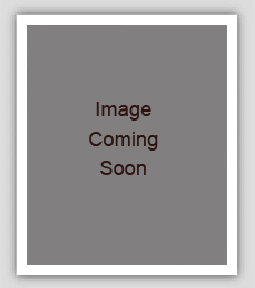 Dentistry for her Associates in Applied Science Dental Hygiene degree.  Candi is certified to administer nitrous oxide and local anesthesia.  She has been practicing clinically since 2008.
Candi began her career in the dental field as a dental assistant.  Her experience of 14 years in dental assisting was where she found her passion for prevention and patient education.
Candi was born and raised in Chicago.  She loves spending her free time with her husband Rey and son Alex.